Product FAQs
How Does Eyelash Serum and Eyebrow Serums Work?
Just like the hair on your head, eyelashes and eyebrows grow in four phases: the anagen phase (30 to 45 days of active growth), the telogen phase  (where the eyelash stops growing but it still attached to the hair follicle), the catagen phase (right before the tissue degenerates and the eyelash sheds on its own). 
The anagen phase is the most essential for growth. This is when your skin  is drawing on key nutrients from your body to stimulate growth. The hair follicles  will continue to grow in length and volume during this phase. NuO's  active ingredients work during this phase to allow your lashes and brows to look fuller, thicker and darker. 
How Do I Use NuO Eyelash Serum and NuO Eyebrow Serum
1. CLEANSE
Remove makeup, eye cream and wash off any residue, keep oil-based products away "from the areas you're applying serum". Remember, oil based makeup removers, cleansers and eye creams can leave behind a film which may create a barrier for products to absorb. 
2. APPLY
Dip the applicator brush into the serum just enough to pick a drop. Flip the brush upside down for a second for the drop to soak into the brush and not to stay on its tip (do not over saturate the application brush).
Start from the inner corner of the eye outwards, apply a thin line of NuO Lash directly to the base of the upper eyelash line, spreading along the roots. Do not apply to the lower lid.
For Nuo Eyebrow Serum, apply on the base of the eyebrow hairs, allowing the applicator to provide the serum to the base of the eyebrow hair and skin. 
Allow the serum to absorb for a few minutes and eyelashes to dry before proceeding with your usual skincare and makeup routines.
Use daily for best results, you may use is up to 2 times per day, preferably in the morning and at bedtime (minimum one time per day) for at least 8 weeks. Please be patient, eyelashes are the slowest growing hair on the human body.
How Soon Can I See Results?
For most of our cosmetic products you may see results  as early as  two weeks, but for best results you will need 6-8 weeks time.
Does NuOrganic Cosmetics Have Any Side Effects?
We use  natural ingredients and botanical extracts which are fortified with active peptides that are generally considered safe. Everyone's body chemistry is different so do not use if you are allergic to one of its ingredients. To make certain you are not sensitive to the product, do a skin test on your inner forearm before applying the product to the lashline. We recommend for you to review the ingredient list with your doctor to determine if it is safe for you to use. 
If You Get Some Product  in Your Eye? 
Please rinse your eyes thoroughly and report to your healthcare provider for any irritation 
Is it safe while Pregnant/Breastfeeding?
No. NuOrganic cosmetics has not been tested in all situations. Therefore, we do not recommend using our products while pregnant or breastfeeding.
Are NuO products FDA approved?
No! Our products  are not classified as drugs and falls into the category of cosmetics for beautifying purposes. NuO Products are not used for diagnosis, cure, mitigation, treatment, or prevention of disease. 
Will it Work for Women/Men at Any Age?
NuO Cosmetics has been developed  for adult women and men ages sixteen and up. 
How Long It Will Last After I Have Opened It?
After opening the bottle, we recommend replacing your NuO Cosmetic Products every 3 months for freshness and highest efficacy. Please keep products in a clean environment and away from direct sunlight! 
Caution: For External use only
Avoid getting in the eye; in the event of direct contact, rinse with water and seek medical attention if irritation persists. Consult with your doctor for any medical questions including but not limited to if you are pregnant or nursing, or being treated for any eye related disorder or actively undergoing cancer treatment. Keep out of reach of children. Avoid storing at high temperature for better shelf life.
Always Test First
Avoid using products if you have skin allergies, skin sensitivities or open cuts/wounds on the skin. It is important to know all of your own specific allergies/sensitivities to any/all ingredients contained in our products prior to using/purchasing. If pregnant/nursing or under a physicians care, please consult your doctor before using our products if you have any concerns/questions about our ingredients.
Our products are made using pure natural ingredients. They are not recommended for anyone that may have concerns about using any of those ingredients. If you have reviewed the ingredients that may be contained in our products and wish to know exactly which ingredients are in specific products, we recommend that you email us and we will advise you of exact product ingredients prior to ordering.
In order to test for known or unknown allergies, we recommend always conducting a patch test when using any new product on yourself or a loved one. Please test the product first on a small area of eyelid before applying/using on entire eyelid area. If any allergic reaction, rash or skin irritation occurs, just discontinue use.
Why Plant Stem Cells
Our Phytocellular Science
We do more than just cover up flaws.
Nuorganic supports the cellular processes occurring within your skin cells. We use the Swiss Apple active ingredient that won the "Best Active Ingredient" in 2008 in the European Innovation.
By harnessing the power of nature, we're able to offer skincare that is truly transformative.
We are changing the skincare industry...
PHYTOCELLULAR SCIENCE

Actively helps reduce aging & fine lines
Strong antioxidant properties
Anti-inflammatory properties

NANOENCAPSULATION

Revolutionary absorption for maximum effect 
Helps get to the deep skin layers for long term healing
Increase the effectiveness of active ingredients from standard skincare products

TARGETED CARE

Combined ingredients for long term skin nourishment 
High % concentration actives to improve standard cosmetics (hyaluronic, vitamin C, etc.)

FREE FROM

Alcohol, Artificial Color, Fragrances
Mineral Oils
Parbens, Phthalates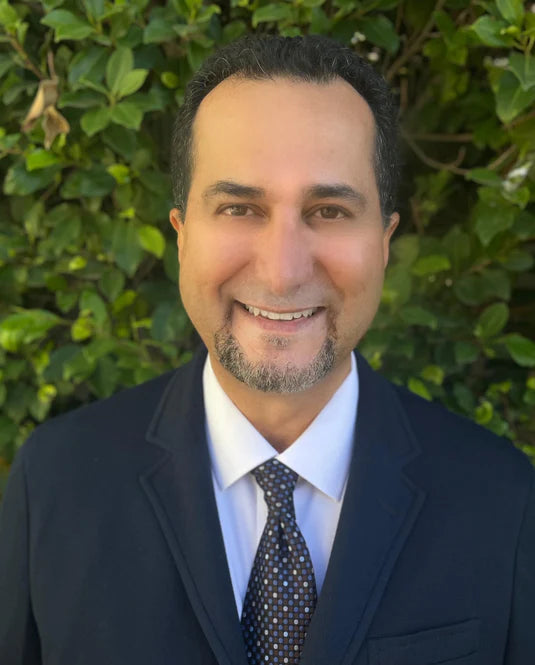 Science with a human touch
Meet Dr. Mo Kharazmi - our Chief Medical Scientist. After 20 years in both the cosmetic and medical research field, he found it alarming that so many brands were doing more harm to the human skin instead of benefiting it and he was left with treating the aftermath. 
Not only did Dr. Mo see his vision to create healthy skincare, but to revolutionize like no other.  This began the journey to develop products that don't sit on top of one's skin, but rather absorb rapidly into the deep layers.
A team who cares
Behind the passion, there's always a team bringing you the next level of skincare. Dr. Jafari is a renowned scientist in the field of nanoencapsulation.
As the lead scientist in a team of 10, they provide the best solution for the delivery of active ingredients. In November 2015, he was recognized as one of the world's top 1% of scientists in the field of biological sciences.
In December 2017, he was selected as one of the top National Researchers in the Middle East - bringing you the top skincare products to become the best, glowing you.